Cyberpunk 2077 Has Sold 13.7 Million Copies in 2020; CD Projekt Announces Financial Results
Today CD Projekt released its financial results for the year 2020, alongside data about the sales of Cyberpunk 2077 and The Witcher series.
Today CD Projekt released its financial results for the year 2020.
First of all, we learn that 13.7 million copies of Cyberpunk 2077 have been sold by the end of 2020. It's worth mentioning that this is an estimate of copies sold-through to customers, not just shipments.
CD Projekt disclosed that the game was created by a team of 530 people from CD Projekt RED and involved over 5,200 people in total. The total budget was 1.2 billion PLN, which translates into just over $316 million.
56% of the copies sold were on PC and Stadia, 28% on PS4, and 17% on Xbox One. 73% were digital and only 27% were physical.
The Witcher series has now shipped over 50 million copies and over 30 million of those are of The Witcher 3: Wild Hunt. Revenue for the series has continued to grow in 2020 compared to 2019 and 2018. This was the second-best year in history for The Witcher 3 in terms of copies sold, second only to its release year.
Revenues for the year topped 2,130 million PLN, which translates into just over $561 million. Net profit for the year was 1,154 million PLN, translating into $304 million.
Of these, GoG.com registered a total revenue of 304 million PLN for the year, with net profit at over 20 million PLN.
The results were also summarized in a video which you can watch below. Make sure to activate English subtitles (unless you understand Polish, of course).
If you'd like to compare, you can take a look at the developer's results for the third quarter of 2020. Recently, CD Projekt announced a relevant shift in its development strategy.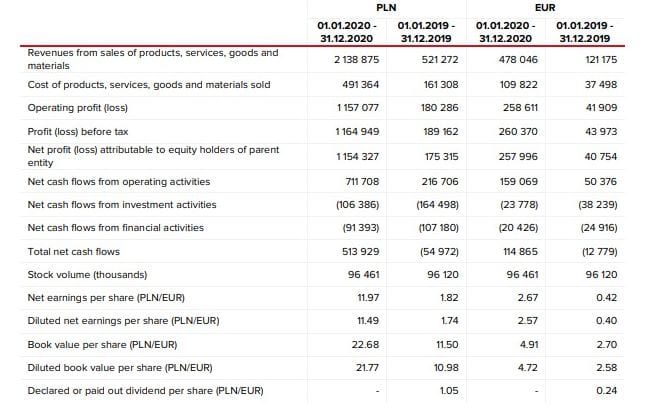 The press release included a statement by CEO Adam Kiciński, promising once more that the studio will improve Cyberpunk 2077 so that everyone can enjoy it, regardless of platform.
"The past year was an especially busy period for us, culminating in the release of the largest project in the 26-year history of CD PROJEKT. Owing to great effort on the part of the entire team, we managed to introduce a new franchise to the market. However, as for the release itself – clearly not everything went according to plan. This was a huge lesson for us, one we will never forget – but I believe now is the time to look to the future. We remain ambitious and we are giving it our all to bring Cyberpunk to a level where everyone can fully enjoy the
game, regardless of platform –"