Microsoft Flight Simulator – Fukuoka City & Airport Review (SamScene3D)
Twinfinite reviews SamScene3D's Microsoft Flight Simulator add-ons massively improving Fukuoka in Japan and its iconic city airport.
Third-party developer SamScene3D recently released "Japan Fukuoka Wow," an add-on for Microsoft Flight Simulator, including scenery for both the largest city in the Japanese western island of Kyushu and its airport (RJFF).
This is certainly a very interesting package for those who love flying in Japan. Fukuoka is an important destination for domestic traffic and also sees quite a lot of international traffic mostly from China, Korea, and South-East Asia.
It's also one of the increasingly rare large high-traffic airports located right in the middle of a major city, offering scenic approaches in both directions. It's actually even rarer because instead of being replaced by another outside the urban area (often on artificial islands in Japan) it's being expanded with a second runway scheduled to be completed in 2025.
Of course, this complicates matters considerably when trying to reproduce it in a flight simulator. But we'll get to that later.
First, if you'd like to see what the scenery looks like in detail, above you can check out a video showcasing the ILS approach to runway 16. The video below includes a full flyover of the airport and of the city itself, in a diverse range of lighting and weather conditions.
The add-on is available on SamScene3D's own store for $18.99. Installation requires unzipping the scenery folder into your Community one, and the developer is very active in communicating updates to its customers via email. Alternatively, you can purchase it on Orbx Direct and take advantage of the Orbx Central client for a completely painless procedure.
If we examine the airport functionally, everything works mostly without issues. The ILS and other approaches are correctly calibrated, and all SIDs and STARs are present. The PAPI lights also indicate the correct glide path if you prefer landing visually.
Taxiways are true to the charts, which means that the sim's default ATC will provide useful guidance to and from the runways and AI aircraft won't have issues navigating the airport. The only small nitpick is that the secondary parking area in the domestic apron mostly used by regional airliners has the ramps marked as general aviation, while they should be still marked as gates.
Ground services are all functional, including the often-neglected fuel trucks that many developers seem to forget or omit in Microsoft Flight Simulator airports.
The orthophoto used as the base of the airport is unfortunately pretty mediocre, and the border with the default surroundings is quite visible.
The runway, taxiways, and aprons feature correct markings updated to the latest visuals references I could find (albeit they could use a bit more fading and weathering). The vertical taxiway signs, while functional, don't match the real airport exactly.
The concrete and asphalt textures aren't bad, but they are a bit flat and clean, They would require a lot more weathering, dirt, and stains in order to be closer to the real look of the airport.
As mentioned before, the airport is under heavy renovation due to the construction of the second runway, which means that it's quite challenging to "freeze" it in time as old taxiways are removed and replaced by the growing runway. That being said, SamScene3D did a good job in reproducing a very recent "snapshot" of the airport. Luckily, the developer is proactive in updating its scenery, so we can probably expect updates as things progress over the next three years.
The terminal buildings are adequate, but not exceptional. The international terminal has a simple modeled interior, while the domestic terminal uses physically-based rendering to make opaque windows look semi-reflective, which makes sense since the international terminal is the one with the largest use of glass in its architecture.
The same goes for the hangars, the tower, and the rest of the airport buildings, which at times show textures that are a bit too low in resolution with visible artifacts, even if you need to get rather close to notice it. There's a lot of construction going on around the hangars as well, and the iconic Japan Coast Guard hangar has been correctly removed like in real life, as the squadron has been moved to another airport. The military apron is (also correctly) still present.
The airport features the default Microsoft Flight Simulator jetways. I would really like to see SamScene3D shift to custom jetways, as it'd certainly add value to its airports. Yet, this is likely the wrong airport for such a request, since Fukuoka's real jetways are indeed very similar to the default ones. As a result, they do their job adequately.
On the other hand, I would have liked to see quite a bit more clutter and airport vehicles on the aprons, which are a bit empty, especially around the military apron and the areas under construction. The developer did add some construction materials there, but it's still not enough. Work vehicles like bulldozers, rollers, and trucks would have completed the scene nicely.
The gates feature a modeled visual docking guidance system, but it doesn't work. This isn't surprising, since it's still an extremely rare feature in Microsoft Flight Simulator scenery (developers have to go through loopholes to make it work, and few try), and I definitely prefer this solution to what most other developers do, which is to simply omit the system altogether.
The landside area is definitely more flat and empty than I would like, but there are elements of brilliance, like plenty of Japanese advertisement billboards that add flavor and even correctly placed nearby stores. I have to admit that seeing the CoCo Ichibanya curry restaurant where I actually had lunch a couple of years ago and the 7-Eleven convenience store where I bought batteries for my recorder made me smile. I certainly miss Fukuoka. It's a charming city.
Perhaps the best feature of the package is that it combines the airport with the surrounding city. You'll find plenty of landmarks like the Best Denki Stadium, the Acción Fukuoka sports center, the PayPay Dome, the Hilton, the Fukuoka Tower, the Fukuokashi Seaside Park, the ruins of the castle, the Hakata Port Tower, Hakata Station, and many more.
Further value is added by the placement of hundreds of highrise buildings like apartments, hotels, and malls, which are almost completely missing in the default scenery. While the Japanese World Update last year made a valiant effort in replacing the smaller buildings you'll see in the country, it did very little in improving the widespread highrise apartment blocks and office buildings in cities that don't have photogrammetry.
The result is that large Japanese cities like Fukuoka don't look all that much like large Japanese cities, almost like they were downgraded to oversized residential towns. This addon does a fantastic job in addressing that without resorting to photogrammetry. Fukuoka does look like Fukuoka even beyond its most iconic landmarks.
On the other hand, I would have liked to see crisper textures and models across the board, and a bit more attention to traditional buildings like temples and shrines, which could have enriched the scenery even further.
A few large landmarks south of the airport like the Kyushu National Museum would have also been welcome, alongside more work on Hakata Port, with more ships, containers, and cranes, on top of its breakwaters and lighthouses, which are completely missing. Yet, as mentioned above, SamScene3D's known proactiveness in updating its scenery makes me hope for some additions in the future.
Conversely, it's nice to see that some of the skyscrapers and apartment buildings on the reclaimed Island City have been included, since it's right under the approach to runway 16.
Night lighting is competently implemented and models and textures react well to the rain. The only relevant weather-related downside is snow coverage at the airport, which is very patchy and could use some work.
In terms of performance, the scenery behaves well enough, especially if you consider that it adds literally hundreds of buildings. On my PC I lose only 7-8 FPS (RTX 3070, Ryzen 9 3900x, 32 GB RAM) at 1440p resolution and Ultra detail settings. You can see the difference in the gallery below.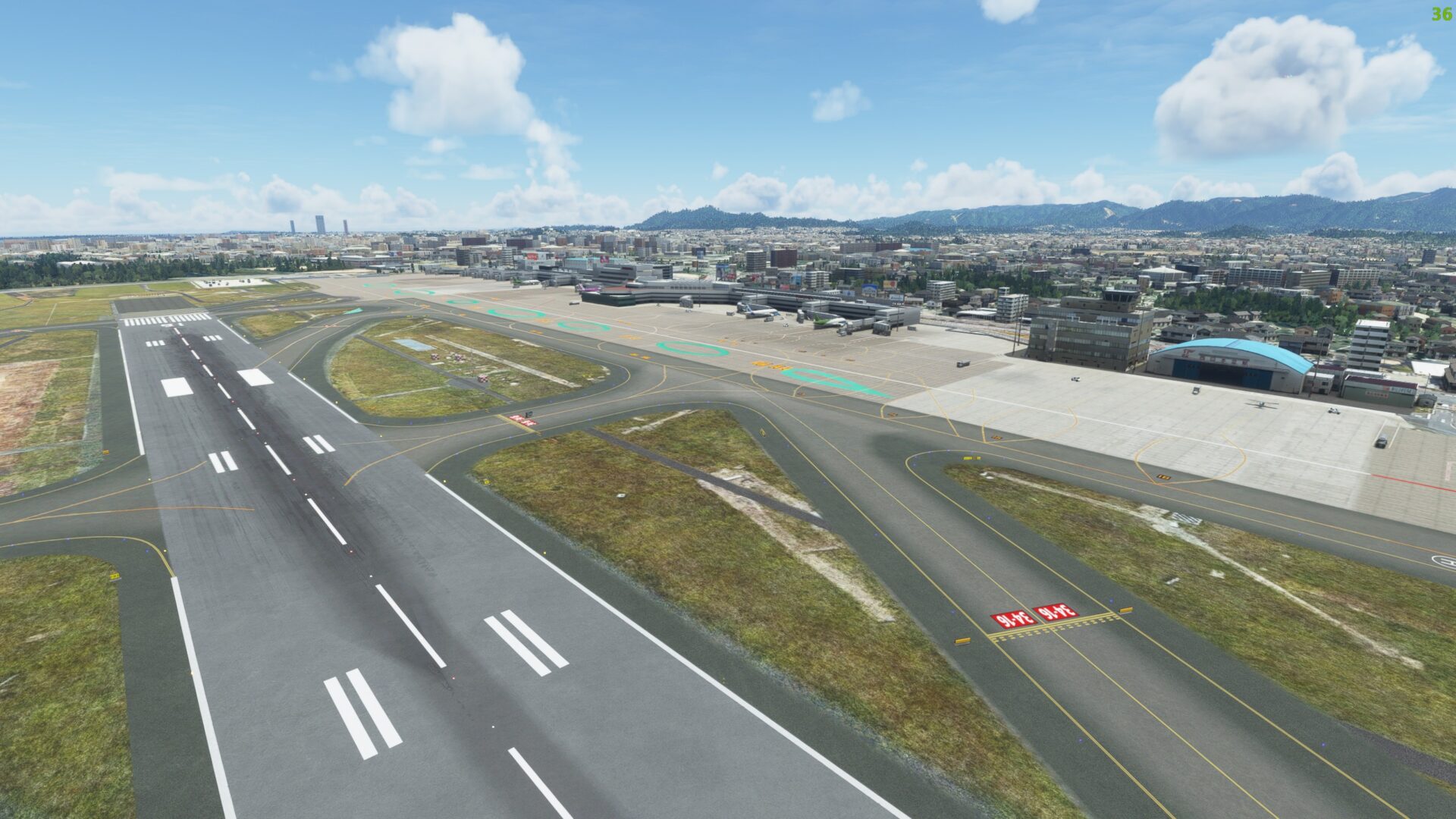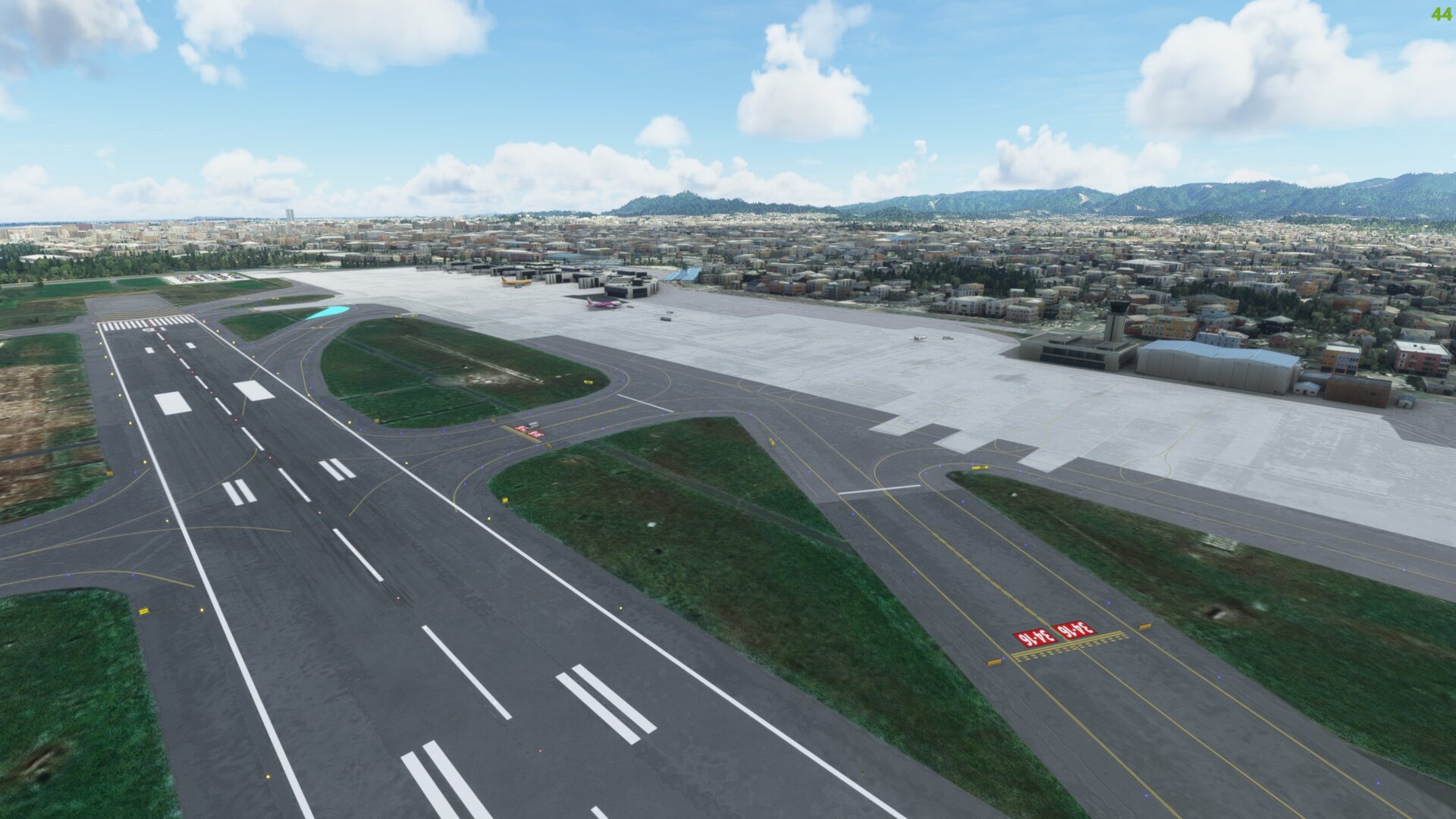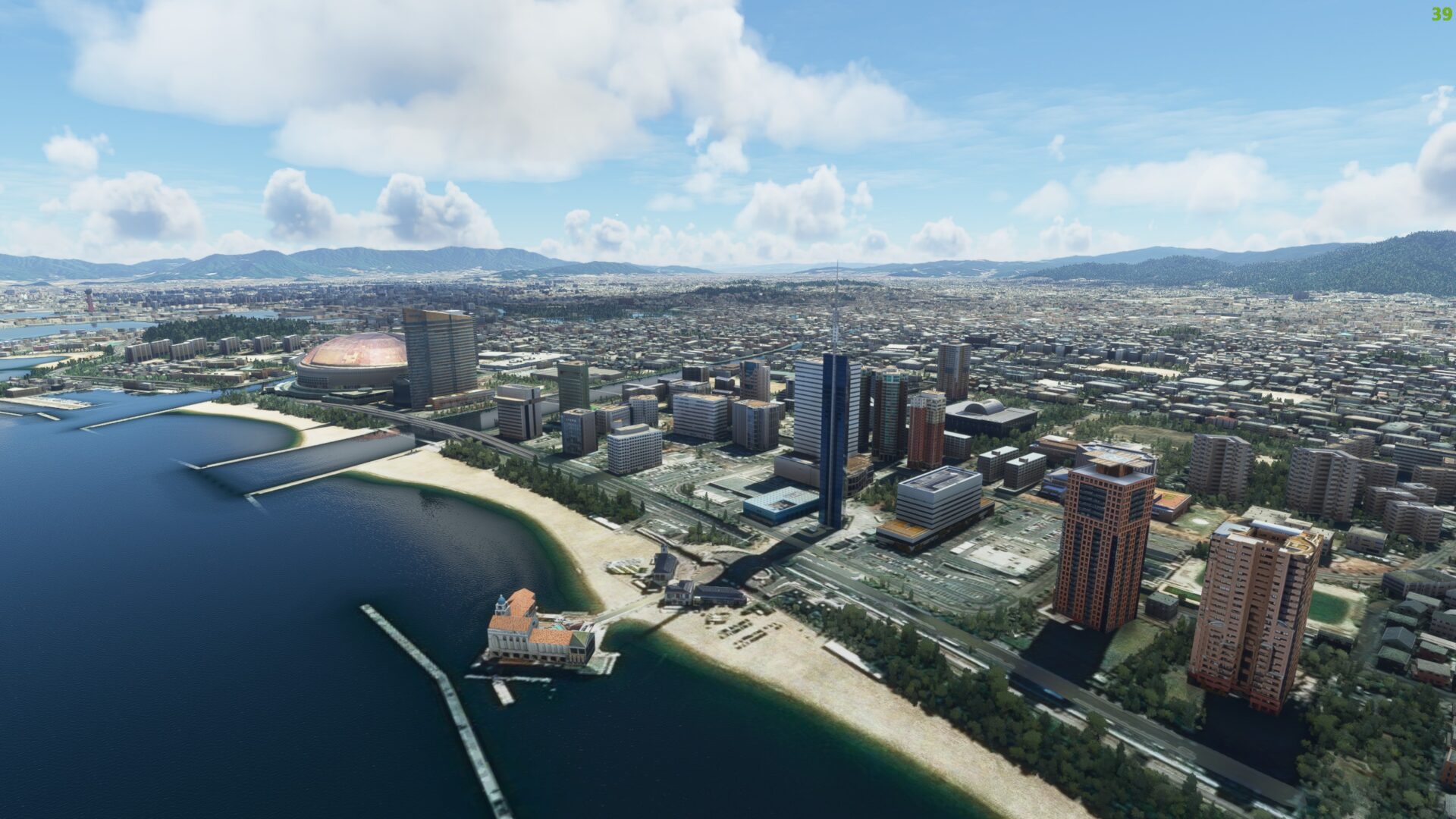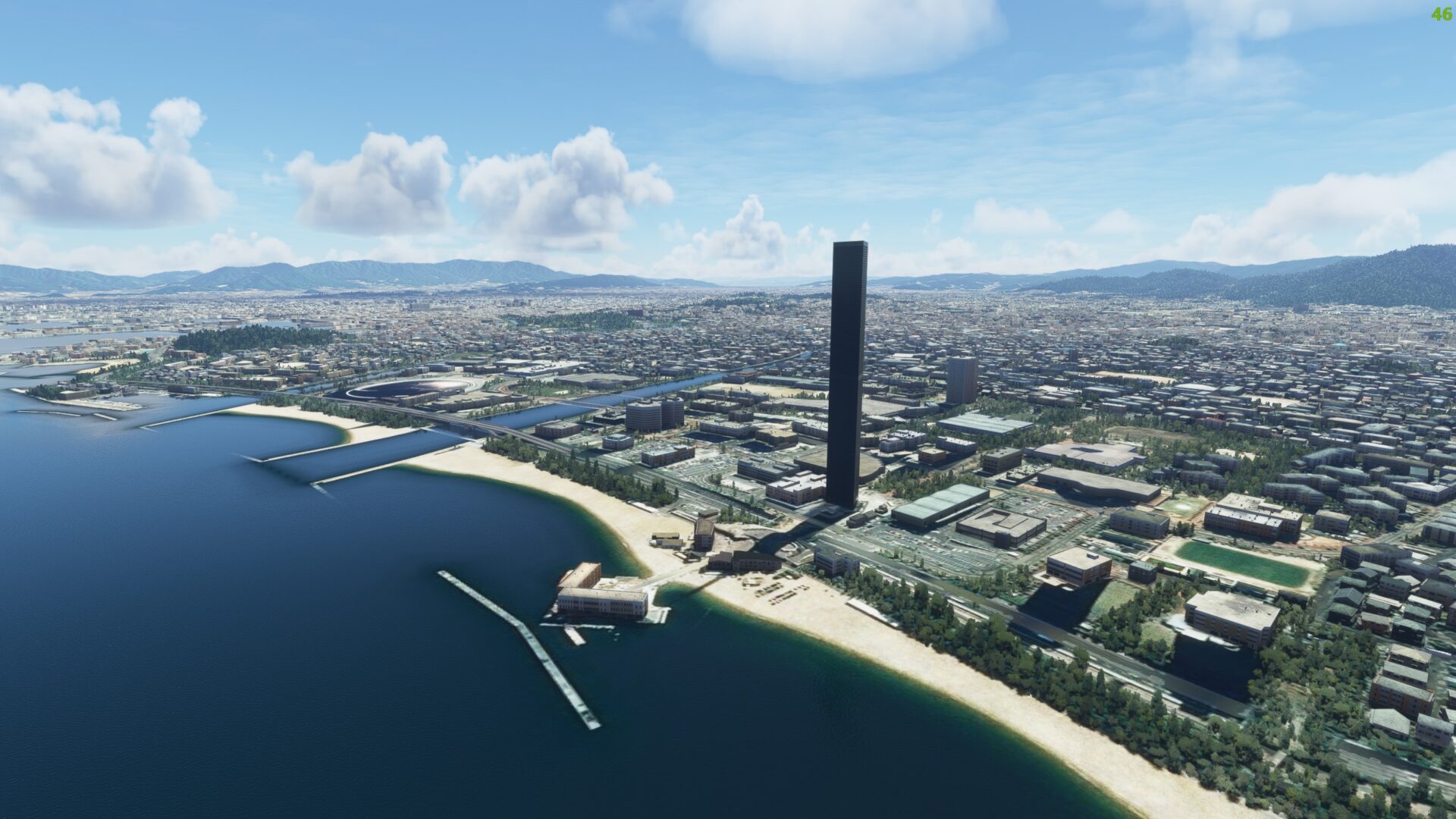 Ultimately, Fukuoka by SamScene3D isn't perfect, with overall texture quality and an airport that could be more detailed as its main downsides. Yet, it would be unfair not to consider what it brings to the table in terms of perks.
Add-ons that include both an airport and the surrounding city are rare in Microsoft Flight Simulator, especially priced a bit less than many stand-alone airports of comparable size.
The default airport is so outdated that it's nearly unusable if you fly with human ATC on networks like VATSIM, while the rendition offered by SamScene3D is updated and still offers a very large improvement over what's offered in Microsoft Flight Simulator.
The absolutely massive number of additional city buildings and the painstaking work that has been done to restore its skyline are also very valuable. In conclusion, if you care about Fukuoka and you enjoy flying in Japan, this package can be certainly considered a good purchase.
Reviewer: Giuseppe Nelva | Copy provided by Publisher.
Pros
The city's look and skyline are restored as opposed to the poor default portrayal.

The airport is updated and fully functional.

Lots of Japanese signage and local store add flavor.

Many, many, landmarks and custom buildings.
Cons
Texture quality is hit and miss across the board.

Runways and taxiways should feature more weathering.

The airport's aprons feel quite empty and more details would have been welcome.

Patchy snow coverage at the airport.
Release Date
June 12, 2021